As the title suggests this is going to be an unusual story about my legs. It has been prompted by the present surgery circumstances and difficulties that have arisen from being unable to continue my life in the usual way.
Flinke Beine
But first lets go back a few years, to a time when I was a young boy of about ten years. I was in the primary school and lived just across the road from the school, a quick run over the zebra crossing and I was home. Mum was always pleased to see me again and of course the cup of tea went down well.
I didn't always go direct home as there were a couple of bullys in the higher class and they didn't like me. They often used to wait for me by the school exit and so I had to find another route. Luckily there was a back exit which meant I had to make a big detour, and it went up a hill as well. A couple of miles in distance but it didn't bother me, and because of this I discovered my running legs and it kept me out of trouble as well.
I used this attribute a great deal in the primary school in that I became a good footballer, playing in the playground with a tennis ball. I was always selected by the others to join their teams and eventually became a goal keeper. That wasn't easy as the playground was very hard and diving around on it left a few bruises behind.
When I was twelve I moved onto a secondary modern school which turned out to be not much more than a place for the sons of barrow boys and ambitious sportler (athletes?). I fitted in well here as I learnt pretty quickly which side I was on and how to get the respect of those hard guys. They spent their playtime in the outside toilets making deals with other kids by selling the cigarettes that they had stolen from their fathers. I played playground tennis and such likes and enjoyed my rest from the teachers bla-bla.
Schuhe für den Champion
In the first school year here and in preparation for the coming football season we had to make a team. I was put forward by a friend as a good goalkeeper, and that remained my position for the rest of my school time. We played twice a week and were trained by an ambitious teacher, a Scotsman called Jock Aleka. His name was never to be forgotten by me!! Tell you later why.
Our school had a high reputation for it's football achievements and it was passed onto the newcomers as well. We won all of the seasons games against all the other North of London Schools and so became champions. I made my goalkeeper reputation here and was then added to the North Londoner Schools Football team, playing every Saturday morning on the Hendon field, and playing against all the other school teams from London. I was the number one goal keeper and I rarely let a ball into the back of my net. Father bought me football shoes and so that I was the same as the rest of the team. Up until that time I had been playing in modified normal shoes, where Dad had hammered in a set of six studs into each shoe.
Mein stolzester Moment
Our team was always winning, and at the end of the season we were top of the league. Did we get a cup? No that didn't exist in those days. I remember my last season in the school and that we had won everything, also in the North London team, we played in the final in the Edgeware football club Stadion. We lost!! But most of all I remember the one morning in the school congregation, I was called up onto the stage and presented with the valued school colours. A proud moment for me.
This I got because, apart from my goalkeeper achievements, I was also Champion in the 80 meters Hurdle Race and Long Jump Champion (including school record) for North London. I nearly made the English athletics team, but just missed out on the trials in the White City Stadion. Also I played wicket keeper in the school's team, and we won all the games also.
During the normal school I used to go home for lunch, sometimes running one direction in order to save money. I also trained my long jump technique over the lunch time at the back of the school.
Züchtigung auf Schottisch
Oh yes, and why do I remember Jock, the Scottish teacher? Well during my last football season I'd suddenly had enough of football, playing twice a week in the school and then on a Saturday as well. After one lunch time I should have taken my football shoes with me to play in the afternoon game, but I didn't want to play. Jock asked me where my shoes were and he got my answer back! He said that I should get the cain (bamboos stick) which I did. Then he gave me 'six of the best' on each hand. Then sent me to Mr. Blow, the physical training teacher, for a work out. I had to climb up the ropes with my swollen fingers!
My Mother told me a story when I came home one day. She'd had a visit from a boy from my school, he asked her "Are you the Mother of Jim Sullivan?" "Yes", she said. Then he told her that she should be proud of me because of all of my sporting achievements. That was such a pleasure to hear and from a boy that I didn't even know.
Ungewöhnliche Hobbies und Jobs
After all of those intensive sport ventures I left school and tried to get into a normal way of living. Sport was not forgotten as I then took up cycling, racing on the track and road. Training with the club at weekends and sometimes riding very long distances. One free day I rode from home in North London down to Portsmouth, slept in a bus shelter then rode home the next day. Following day rode to Clapton on the East coast, slept in another bus shelter then went home again. All of this with hardly any money and nothing to drink on the way. I remember on the way down to Portsmouth I stopped at the top of Guildford hill, rang the door bell of a nearby house and asked for a glass of water, which I got.
I kept up my cycling hobby until I joined the Royal Air Force as a musician. When I was 15, music became a big love of mine. I started with a simple system clarinet, which Father brought home for me. I loved trad jazz and made a study of it in my spare time. I formed a Traditional Jazzband of five friends and now and again we'd play in the intervals of big jazz clubs in London. Cy Lauri, Hunphrey Littleton, Chris Barber, they enjoyed our efforts and we had a lot of fun.
Oh yes, one year after leaving school I changed my job, or should I say: jobs. Worked in a factory for a week making bicycle wheels, then in another factory, then in a warehouse next to the Tower Bridge. This last job was a long way from home but I did it everyday with my cycle, through all sorts of traffic and weather conditions. I got to know London very well during this time which helped me later in other jobs.
Musik als Türöffner für die Welt
During my 'square bashing' time at the beginning of my Royal Air Force career I discovered, that I was pretty fit. They put us through it in many ways, but I always came out with my head high. After the six weeks were over I went home and there a neighbour said to me: "You went away a boy and came home a Man!"
She was right and that was a big turn around in my life. I studied music in Uxbridge for one year, lived in a tent in Cyprus 2.5 years with the RAF band. Played music all over the middle east, Bagdad, North Africa, Kenja, Malta etc.
Then came home to the green country that I had been missing. I didn't stay much longer in the RAF and I moved on to working in a wine import company again next to the Tower Bridge. I was employed as a bookkeeper and I then spent the next three years studying accounts. Of course I learnt a lot about wine, and as my friend worked in the labor, we used to exchange notes together sometimes!
I got my qualification and then applied for a job with a renowned graphic design studio, owned and run by David Judd. From 150 applicants I got the job. I spent the next two years running around London and travelling mostly in taxis, from the studio to advertising agencies and back. Picking up work and delivering it again, very often having to make presentations to the art directors and their clients. It was an exciting modern world at a time, when the design world of London started to wake up. I also got involved in Interior Design and represented David Judd all over the UK.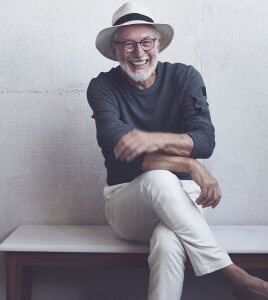 Auch die teuersten Schuhe hielten mich nicht
Sport did not exist at this time. My legs took me to work, walked me around all the best furniture and textile showrooms and stores in London, then took me home again. My feet were wearing the best Brogue and Oxford styled shoes, made by leading London designers. My clothes were made to measure, having a different suit for every day of the week. It was a great time and I loved every minute of it.
But a change had to be made, I needed to discover new things, and so I became self employed as a painter decorator. Something that I had learnt from my Father. I had contacts, I received a lot of work and I was fit enough to do it. My legs helped me a lot at this time, for example, I had to paint all the rooms in a seven story block. A lot of stairs, a lot of work and sometimes all night. It was a bed sitter house and when someone moved out, I moved in. Getting it ready for the morning arrival of the new tenant. I worked in churches, villas, ruins and, also at that time, for a famous Scottish song writer. He had just won the Eurovision Song Contest with 'Puppet On A String', he made a fortune and was therefore able to pay for my invoices.
But like always, time came and I needed a change and so took over a Pub in Norfolk. Nice time but not profitable, so I looked for something else. Found it too: a job in Thetford Norfolk, working for Sir Terence Conran in his Conran Fabrics (Habitat) business.
I began as a clerk and within one year I was the boss, reporting to Terence in London. Sport was just existent, I played as wicket keeper for Thetford Cricket Club, in one game I made my record with 50 runs and took all 9 wickets of the other team. Even made the local newspapers!
Der Beginn einer beständigen Liebe
Times changed and UK became a member of the Common Market – later the EU market, which we are now trying to get rid of! We had a bad time as we had to change so many things, money to Euros, feet & inches to centimeters, and many more things.
It was a very expensive time for the country. And for example the textile weaving machines in Manchester became obsolete because of the metric system. That's why Conran fabrics went down at that time. Business suffered in all directions.
I left Habitat and Terence Conran and pottered around in Cambridge. A beautiful place full of life and friends. I worked sometimes in a riverside Pub and became a trusted employee of the owner.
Tell you more about that later.
Cambridge has many cafes and tea shops, one of which is called 'The Whim'. Directly opposite the university it was a popular retreat for students, but for the foreign language students too.
One day, when I was drinking my afternoon tea, I saw a very attractive young lady on the other side of the room. She was beautifully dressed and had shoes from Bally on. Her blonde hair, blue eyes and fine figure could not be unseen. I had to talk to her, and I did.
We had dates, and one of which will never be forgotten. I hired a punt on the river that runs through the university. I got my friend to come along with his guitar and so the the romantic scene was set. His voice and music were super, and me? I was poling the punt along the river. Sunshine and university buildings could not have made a better scene.
After about 45 years we are still together, having worked and lived in so many countries and having travelled the world, raised a Swiss family in Zurich and now having retired together.
Fasan in Brandy
Oh yes, the Pub Owner episode? Anna and I worked a season in Corfu, Greece, and over the winter time we returned to Cambridge. I worked sometimes in the Riverside Pub, and Olive and her husband told us that they would like to put the pub in our hands for the Xmas period.
Wow, that was great, but you know there are opening and and closing rules! Well, I knew them, but something went wrong! Anna was with me and we opened up for the Xmas lunch. And then, during the closed time in the afternoon I roasted a pheasant, in a brandy sauce. It was fantastic, but the problem was, we got drunk on it. And we fell into a deep deep sleep and didn't get around to opening up for the evening. We didn't even hear the customers banging on the entrance door!! The pub owner heard about this on his return and we got more that a telling off!
I think that's maybe about half of my story for the moment. But actually I think, the recent years are more interesting and exciting than the earlier. I'll let you judge.
Right now I am training my legs as they have to work normally again so that I can tell more stories about my life.
Anyway, today I walked 20 meters with support, like being a baby again, but with more body weight.
Hope you have enjoyed the first episode.